Aviation art ~ Spitfire Mk IX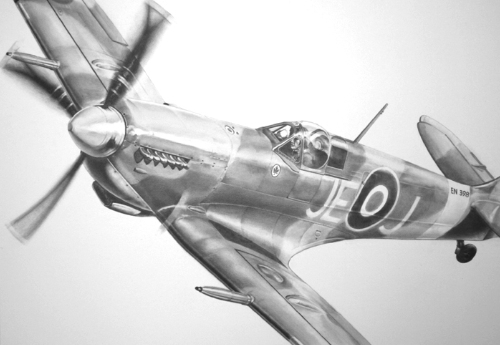 JOHNNIE JOHNSON
An original pencil drawing, size 22 x 16 inches, priced 500 GBP
Spitfire Mk IX, flown by "Johnnie" Johnson, acting Wing Commander in charge of Canadian Wing at Kenly 1943.
Johnson was the top-scoring RAF fighter pilot of the Second World War; his dash, courage and flying skills were outstanding. Johnson accounted for at least 38 enemy aircraft over Britain and occupied Europe, yet his actual score was almost certainly higher. Of the many enemy aircraft he shot down, he waived shared credits to boost the scores - and the confidence - of younger pilots. He earned an appropriately impressive collection of decorations, including a DSO and two Bars and a DFC and Bar.
Johnson died in 2001 at the age of 85. He had a distinguished career and retired in the rank of Air Vice Marshall. He wrote several readable books, notably Wing Leader(1956), a wartime autobiography, and Full Circle (1964). With his friend and fellow ace Wing Commander P B "Laddie" Lucas, he wrote Glorious Summer (1990); Courage in the Skies (1992); and Winged Victory (1995).